Train Station Simulator
Mã sản phẩm:

vncur 738610 idcur

Tình trạng:

Còn hàng
Train Station Simulator is a station builder and manager game. Create and maintain your dream station! Ride the rails and operate your ultimate grand central empire!
---
Tag: Indie, Simulation, Strategy, Early Access
Train Station Simulator
is a station builder and manager game. Be a creative engineer by planning flooring tiles, building walls and creating emergency routes.

Caring station design
Lay flooring tiles, build walls, create corridors, place exit doors and emergency routes.
Expand your building to create more room for constructing advanced appliances, facilities, services and a more reliable train system.
Creative station design creates a better place for your passengers.
Replace old tracks as new and more advanced technologies are invented – all the way to magnetic trains.
Form mood-enhancing designs: plants, flowers, open spaces and benches.

Latest update is coming this weekend (version - 0.9.2.0 Updated*: 25th/May/2019)
You can find the new feature list in this thread:
https://steamcommunity.com/games/738610/announcements/detail/1607133224291034307
Expanding content with constant updates (version - 0.8.3.0 Updated*: 20/October/2018)
56+ different objects to place

25+ types of trains, locomotives, engines and carriages

25+ different staff members in 5 settable categories and an extra 2 categories of shoe-shiners and shop assistants (assistants are part of each cafes and restaurants by default)

24+ types of passengers including vandal persons and homeless persons and disabled persons

22 different cars from the 70s and 90s and bicycles

16+ types of shops/restaurants and other facilities to place

9 public transportation vehicles

6 doors

5 types of rails: standard, advanced, electric, magnetic, light hiber

5 flooring

4 platform types

3 walls
*Not all content available in all game modes at once.
Ride the rails
Set up bars and cafés and allow them to grow and bloom into successful businesses.
Deploy bus, taxi and tram networks to grow your local station to a crowded hub central.
The demand for traveling by train is undeniable: open new train routes by selecting combined schedules.
Bring your station to life: place local bus stops near tracks scheduled with local trains.
Keep your station clean of debris, secure all areas by police officers and never ran a train off the track by employing system engineers.

Creative game play with enhanced features
Solve real-life station modeling challenges with enhanced passenger ai movements.
Play through 25 different scenarios with different skill levels and timeframe.
Track station progress with a comprehensive statistics menu.
Follow each of your staff members and analyze all passengers' behavior.
Exciting game achievements, various leaderboards

We plan to add the following features
Weather-related events: rain, snow, windy weather
Disaster modes: train accidents, trees on rails
Thieves, robberies and bomb threat related events
Advanced terminal evacuation
New staff types: swat team, engineers, train cleaner units, track maintenance service
More transportation connections: underground station, trolleybus terminal, parking lot
New objects: overpass, underpass, moving walkways, advanced vending machines, recreation area, park, playground
New facilities: advanced restaurants, bars and buffets, pet relief area, lost and found, meditation room, nursery
More colorful passenger types: children, elderly, disabled, beggers, hooligans, pickpocket, train graffiti artists, distraught passengers, smoking violators
Continental train graphics packages
Mod support for all train graphics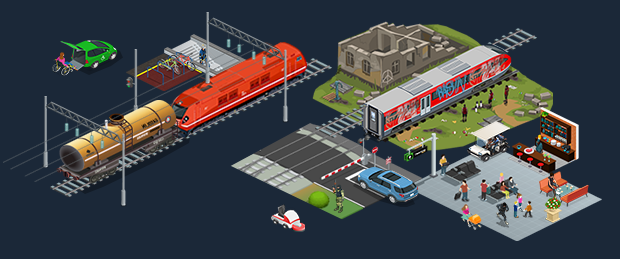 Hire your staff and manage salaries and working shifts:
Keep your station clean of debris, secure all areas by police officers and never ran a train off the track by employing system engineers. Hire your staff for a more reliable operation. A cleaner station makes passengers happy that increases income.
Deliver more tracks and manage all schedules:
As time flies by your terminal hub starts to expand. Set up restaurants, bars and cafés and allow them to grow and bloom into successful businesses. Open up new building wings and connect all areas with corridors so passengers can easily access all spaces.
Select from campaign modes to endless game play
Train Station Simulator will be shipping with over 25 uniquely designed game modes ready to be played not only for days but weeks and months. The game includes "Campaign", "Ready", "Mission", "Survival" and "Endless" play modes.
Minimum:
OS: Windows Vista / 7 SP1 (XP not supported anymore)

Processor: Intel Core 2 Duo 2.4 GHz | AMD: 3 GHz

Memory: 4 GB RAM

Graphics: Any 1 GB RAM

DirectX: Version 11

Storage: 150 MB available space

Additional Notes: Windows 8 and Windows 8.1 might not fully supported. 16:9, 16:10, 21:9, 16:3 supported (Tested: 1600x900, 1600x1200, 1680x1050, 1920x1080, 1920x1200, 1920x1440, 2048x1536, 2560x1080, 2560x1440, 2560x1600, 3440x1440, 5760x1080)
Recommended:
OS: Windows 7 (or higher) (64 bit)

Processor: Intel Core i7 2.6 GHz | AMD: 3 GHz

Memory: 8 GB RAM

Graphics: Any 1.5 GB RAM (or higher)

DirectX: Version 11

Storage: 150 MB available space

Additional Notes: Windows 8 and Windows 8.1 might not fully supported. 16:9, 16:10, 21:9, 16:3 supported (Tested: 1600x900, 1600x1200, 1680x1050, 1920x1080, 1920x1200, 1920x1440, 2048x1536, 2560x1080, 2560x1440, 2560x1600, 3440x1440, 5760x1080)